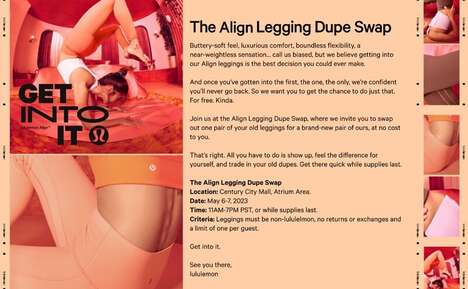 Dupe culture has taken social media by storm, with the hashtag #dupe accumulating over 3.5 billion views on TikTok and #lululemondupe alone amassing 180 million views. One of the most duplicated Lululemon products is the fan-favorite Align Pants, worn by celebrities like Kim Kardashian, Meghan Markle, and Lucy Hale.
Launched in 2015 as a single 25-inch tight for yogis, the Align Pants have since expanded into a versatile franchise with a range of products including tops, bottoms, one-pieces, and dresses. To demonstrate the brand's confidence in the Align Pant, lululemon is giving them away for free in exchange for your dupes.
For the first time ever, lululemon is hosting the Align Legging Dupe Swap in Los Angeles on Saturday and Sunday, May 6-7. Guests can visit the pop-up store in LA's Westfield Century City Mall wearing their dupe leggings, trade them in, and walk out wearing a free pair of Align leggings.
Image Credit: lululemon