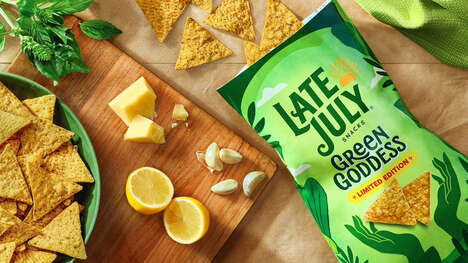 Late July, a renowned snack brand, has recently launched its Limited Edition Green Goddess Tortilla Chips, drawing inspiration from the fresh flavors associated with the warmer months ahead. These unique tortilla chips incorporate a delightful blend of fresh basil, savory garlic, rich parmesan, and a vibrant hint of lemon, offering a one-of-a-kind snacking experience for consumers.
In the past year, Green Goddess Dressing has become increasingly popular, topping Google Trends as the number one trending recipe. This culinary sensation has also made waves on social media platforms like TikTok, where #GreenGoddess has garnered over 246 million views. The new Green Goddess Tortilla Chips capitalize on this viral trend, taking it to the next level.
Available nationwide, these limited edition chips can be purchased for a suggested retail price of $5.79 per 7.8oz bag. However, supplies are limited, so customers are encouraged to act quickly to savor this innovative fusion of flavors that celebrates the essence of the warmer months.