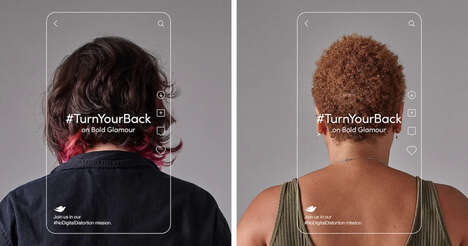 For decades, Dove has been championing real women and real beauty all over the world, and its newest campaign boldly opposes the viral Bold Glamour filter on TikTok. With this campaign, Dove is inviting people to join the fight against digital distortion and, quite literally, turn their backs on the filter. The influencer-led campaign highlights the feelings of content creators, who share their personal feelings on the filter and the potential damages it can cause surrounding beauty ideals.
The Bold Glamour filter is one of the most realistic face-altering filters to date and it leverages machine-learning technology to automatically lift cheekbones, thin noses, plump lips and sculpt eyebrows.
Dove is calling for its global community to post a video to #TurnYourBack on the Bold Glamour filter as part of the #NoDigitalDistortion movement.