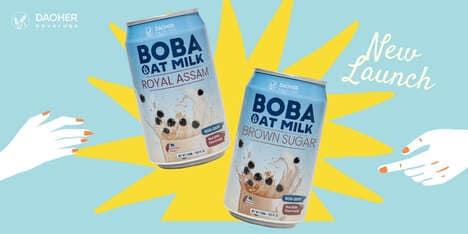 DaoHer offers a selection of canned bubble tea beverages and two options stand out for vegans thanks to their oat milk base. These boba oat milk beverages are ready to be consumed in flavors like Brown Sugar or Royal Assam.
Complete with chewy balls made with natural konjac fiber, this grab-and-go bubble tea beverage provides refreshment whether or not there's a specialty boba tea counter or shop nearby.
Bubble tea has become increasingly popular over the past few years, and has become a staple beverage in many countries. Its unique blend of sweet and milky flavors, combined with its chewy tapioca pearls, make it a beverage that is both refreshing and fun to drink. Part of its popularity can be attributed to its customizable nature, as seen with these vegan-friendly boba milk tea options.