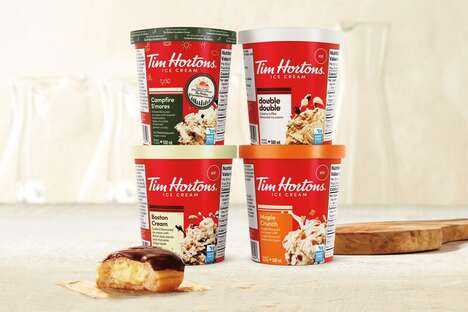 Just last year, Tim Hortons ventured into the world of ice cream and now Canada's largest restaurant chain is back with even more Tim Hortons ice cream flavors that remind of consumer-favorite menu items. The all-new varieties include Boston Cream, Double Double, Maple Crunch and Campfire S'mores, and they're hitting grocery stores in Canada this week. These ice creams are made in Canada with ice cream producer Shaw's and 100% Canadian dairy.
Double Double is a flavor that was highly requested by fans and it shares the taste of Tims Original Blend coffee with rich, creamy and sweet notes.
Notably, 100% of net proceeds from the sale of Tim Hortons Campfire S'mores Ice Cream will be donated to Tim Hortons Foundation Camps in support of youth from underserved communities.