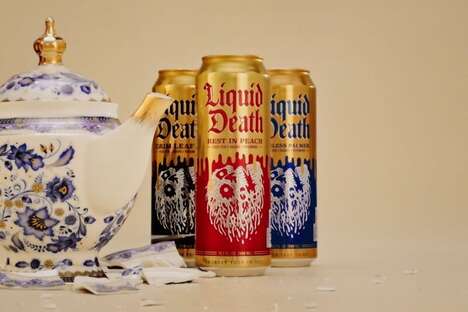 The Liquid Death Ice Teas have been launched as the brand's latest lineup of refreshments that are perfect for consumers to try out when seeking out a functional way to quench their thirst.
The teas come in three flavors including Grim Leafer, Rest in Peach and Armless Palmer, which contain 30-calories in each can with six-grams of agave for sweetness. Each can also boasts 30mg of natural caffeine to offer a boost to energy levels, while added B vitamins also help to enhance energy levels for a functional profile.
The Liquid Death Ice Teas come in recyclable aluminum cans and are accented by limited-edition artwork on the bottom of cases. The drinks come as the first new product outside of the sparkling refreshment range.
Image Credit: Liquid Death