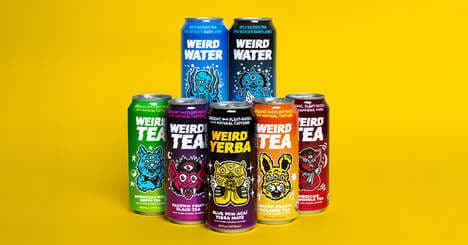 There are a handful of brands that have carved out a unique space for themselves in a competitive beverage market, and many of them make canned water with edgy branding. Among them is Drink Weird, which makes purified and sparkling water with splashy packaging.
Canned water stands out for not only being highly portable but also sustainable thanks to their infinitely recyclable packaging but it's the branding that draws consumers in and gets them to become a part of a community. Drink Weird further sets itself apart by giving 100% of its profits to charity and because it's independently owned and operated, the brand promises that "you're not accidentally giving your money to a huge corporation, hellbent on global destruction."
Drink Weird's colorful lineup also includes Weird Tea and Weird Yerba.