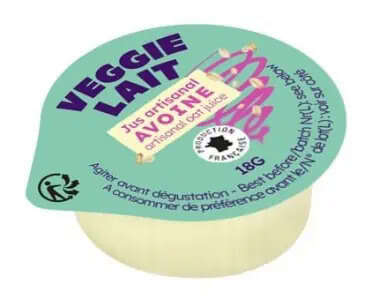 There are a number of reasons that someone might not want to consume dairy and Veggie Lait created plant-based milk pods to support those consumers. The first-to-market plant-based milk pods were launched with the intention of supporting guests at hotels and restaurants, as well as consumers who want a quick and easy way to take non-dairy options on the go.
All elements of the pod itself, including the lid, are fully recyclable and it helps to fight food waste with its small format. Unlike small cartons of plant-based milk that can be carried around, this one offers just the right amount of liquid to enhance a variety of hot drinks.
Currently, the French company offers an "oat juice" product and in the future, it may explore an oat juice vanilla flavor, an oat juice caramel flavor, as well as almond milk, soy juice and spelt juice.