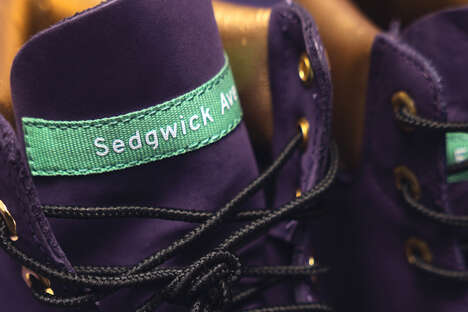 The unveiling of a special edition 'Hip Hop Royalty 6-Inch Boot' by Timberland commemorates the 50th anniversary of the 'Original Yellow Boot' and the birth of Hip Hop. The brand acknowledges the influence of the Hip Hop community on its history, and Senior Footwear Designer Chris Dixon draws upon past design elements to create the new product.
The shoe's use of Helcor materials resembles the feel of vinyl records, while the grey soles are inspired by New York City's "Concrete Jungle" moniker. The "Sedgwick Avenue" wording on the green tongue labels is an homage to the address of the house party where Hip Hop is said to have originated in the Bronx.
Online retailers are currently selling the Timberland Hip-Hop Royalty Premium 6-inch Waterproof Boots for $210 USD.
Image Credit: Timberland, hypebeast, timberland