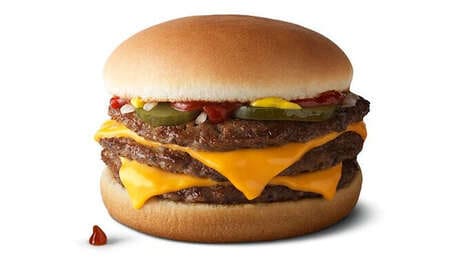 The McDonald's Triple Cheeseburger is being launched by the brand in select markets as a value-focused menu item that's sure to be a hit amongst patrons on the hunt for ways to stretch every dollar.
The burger features three 100% pure beef patties seasoned lightly with salt and pepper before being paired with two slices of American cheese. Servings on a toasted bun, the burger is topped with chopped onions, pickles, mustard and ketchup to cut the cheesy, meat-forward flavor just a bit.
The McDonald's Triple Cheeseburger comes in at 540-calories and is priced around $2.79 to give it a value-conscious profile for diners. The burger is reported to have been quietly launched in select markets, but could be arriving more widely in the near-future.
Image Credit: McDonald's