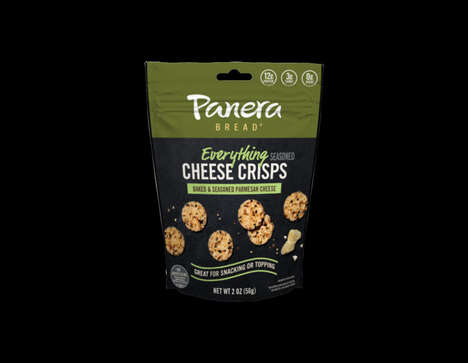 Presented as part of the QSR restaurant's supermarket range, these Panera Bread Cheese Crisps are a tasty snack that's ideal for on-the-go enjoyment. The branded snacks are available across select US-based grocery stores, with three flavors available.
While the Everything Cheese Crisps are "seasoned with sesame seeds, garlic, onion and poppyseeds, and are baked with aged Parmesan cheese," much like a classic Everything Bagel, the Tomato Basil Cheese Crisps are made with "aged asiago cheese and tomato basil seasoning." Lastly, the Parmesan Cheese Crisps are a classic snack made with pamesan cheese.
Each of these snack varieties doubles as a crispy topping for salads and is sold alongside Panera Bread's other grocery store bestsellers, includes dips, breads, soups and quick-prep ready made meals that include protein-rich and vegetarian-friendly bowls. protein-rich and vegetarian-friendly bowls.