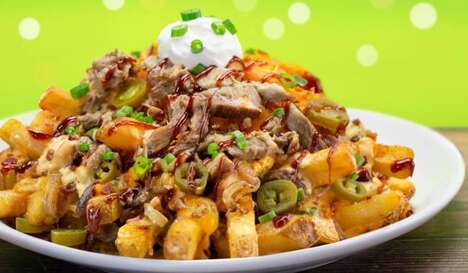 Bennigan's is embracing the luck of the Irish with the launch of several new scratch-made, Irish-Inspired items, including the Loaded Blarney Pub Fries and Molly Malone's Irish Linguine.
From March 1-30, 2023, Bennigan's customers can enjoy delicious St. Patrick's Day dishes for lunch, dinner, or dessert. One of the standout new menu items is the Loaded Blarney Pub Fries, which consists of Bennigan's signature Homestyle French Fries topped with housmade chili con queso, alehouse onions, shredded Carolina pulled pork, crispy bacon pieces, melted cheddar cheese, and a drizzle of BBQ sauce. As if that weren't enough, he fries are also topped with sour cream, pickled jalapeños and fresh green onions.
Alongside the new Irish dishes, Bennigan's has also created a few new handcrafted cocktails for the occasion, including the Emerald Isle Party Punch, the Celtic Peach Blaster, and the Paddy's Lemon Drop Martini.
Image Credit: Bennigan's