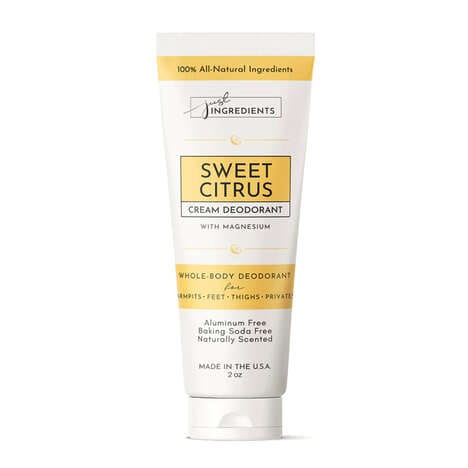 Just Ingredients' Sweet Citrus Cream Deodorant is a full-body deodorant cream that's magnesium-infused and ready to be applied like a lotion. This pH-balanced product is non-irritating and intentionally designed to be used anywhere on the body, including armpits, thighs and even intimate areas.
Thanks to its magnesium content, the product works effectively to neutralize odor-causing bacterial, while other additions like sweet almond oil are beneficial for supporting healthy cells. Other ingredients in the product include organic beeswax and an aromatic, organic blend of essential oils that gives the product its fresh, bright and pleasant scent.
This free-from formula avoids the use of aluminum, baking soda, parabens, phthalates, sulfates and talc. As a brand, Just Ingredients stands for health and wellness products made from only real ingredients to support physical and mental health.