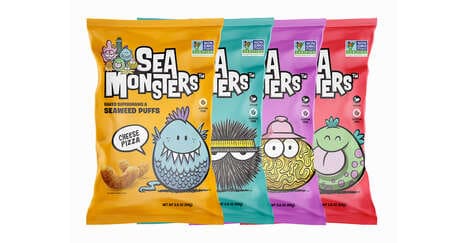 Sea Monster is a wholesome, crunchy snack that combines seaweed with sorghum for a first-of-its-kind puffed seaweed snack.
John Lee and Jiae Kim, the experts behind the brand, spend years pouring their creative and storytelling genius into brands like Nike, Levi's, Uniqlo and KIND. Now, the serial entrepreneurs are ready to bring their own CPG brand to life with vibrant characters and regeneratively grown ingredients. The seaweed snacks were inspired by kids craving salty and sugary treats as an after-school snack, and Sea Monsters satisfies as a nutritious and great-tasting alternative.
With the support of (included) ACCESS—a retail growth accelerator that prepares BIPOC food and beverage founders for trade shows—Sea Monsters will have a presence at Natural Products Expo West.