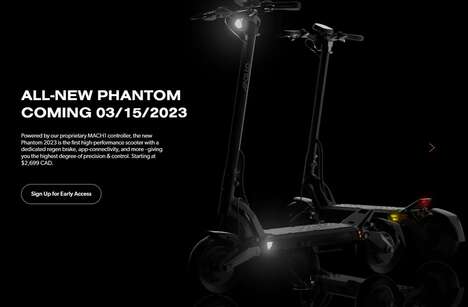 The 'Apollo Phantom 2023' is a high-performance electric scooter that offers many innovative features and a sleek design. It is powered by a proprietary MACH1 controller that gives it superior acceleration, speed, and range. The Phantom 2023 can reach up to 64 km/h (40 mph) and travel up to 80 km (50 miles) on a single charge. It also has dual hydraulic brakes, dual spring suspension, and an IP54 water-resistant rating.
The Phantom 2023 comes with a smart LCD display that shows speed, battery level, mode, and other information. It also connects to the Apollo App via Bluetooth, which allows users to customize their riding settings, lock their scooter remotely, use navigation features, and access advanced insights. The Phantom 2023 also has a built-in horn, turn signals, brake lights, and headlights for safety and convenience.
The Apollo Phantom 2023 is expected to launch on March 15th, 2023, and will be available for immediate shipping in North America. It will cost $2,299 USD or $2,699 CAD and will have promotions for the first 100 orders.
Image Credit: Apollo