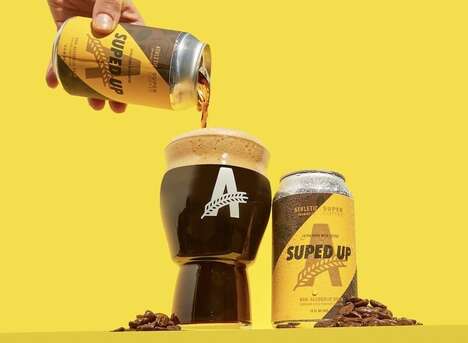 Non-alcoholic craft beer producer Athletic Brewing and bottled coffee brand Super Coffee teamed up to create the world's first pre-workout brew. This new non-alcoholic beer is brewed with high-quality coffee and spent brewer's grains and it's extra dark and rich as a result, with five grams of protein.
This brew inspired by "the power of positive energy and the grind of endless grit" is made with two pounds of coffee per barrel and upcycled barley rice protein, and in terms of taste, it is said to offer roasty and chocolatey notes, plus bold coffee flavor.
Suped Up offers the benefits of protein coffee in a non-alcoholic beer format and the idea for the product started when Athletic Brewing co-founder Bill Shufelt and Super Coffee co-founder Jimmy DeCicco struck up a friendship at a fitness event.