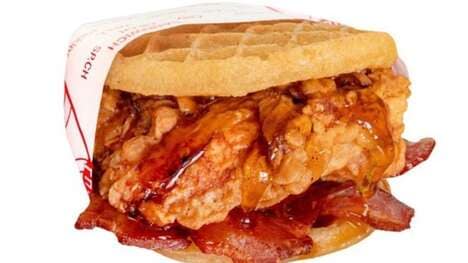 Fatburger is leaning into sweet and savory with its new Chicken and Waffle Sandwich.
Fatburger's new Chicken and Waffle Sandwich is essentially a handheld version of the classic fried chicken and waffles pairing. The dish starts with hand-breaded crispy chicken and several strips of bacon, all drizzled with maple syrup. The meat is then sandwiched between two of Kellogg's iconic Eggo Waffles.
However, the new Chicken and Waffle Sandwich isn't the only breakfast-lunch hybrid available. Fatburger is also selling a new Vanilla Iced Coffee Shake and Mocha Iced Coffee Shake, both of which give consumers a new way to enjoy their coffee.
Both the Chicken & Waffle Sandwich and the two new Iced Coffee Shakes can be found now at participating Fatburger locatins for a limited time.
Image Credit: Fatburger