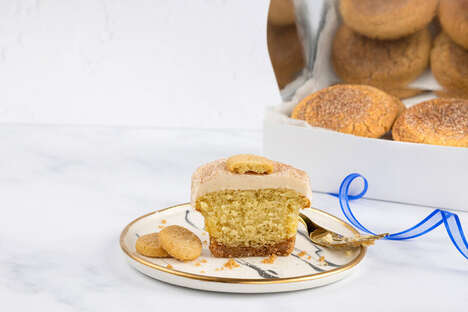 The Austin-born warm cookie delivery service called Tiff's Treats has teamed up with the national cupcake chain Sprinkles on an exclusive new Snickerdoodle Cookie cupcake. As Tiffany Chen, Owner and Co-Founder of Tiff's Treats said of the collaboration: "It's been soul-satisfying to work with Sprinkles on this collaboration."
A hybrid of each company's signature desserts, the new Snickerdoodle Cookies cupcake combines warm cinnamon flavors with the soft and fluffy texture of a classic Sprinkles cupcake. More specifically, the cinnamon cupcake is made with a Tiff's snickerdoodle cookie crust, topped with sweet cinnamon frosting, and finished with a mini snickerdoodle cookie on top.
The new cupcake will be available starting Monday, February 27, 2023, from Tiff's Treats and Sprinkles' locations in Austin, Texas.
Image Credit: Tiff's Treats/Sprinkles