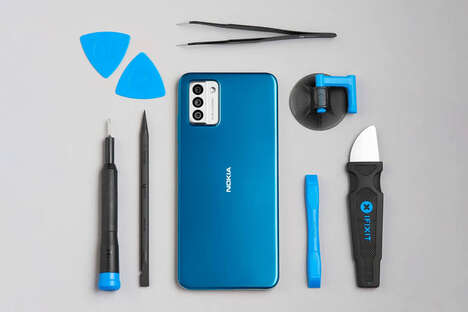 Smartphones are notorious for having a design that's not easily repaired by consumers, which is something the Nokia G22 has been created by HMD to help change.
The smartphone puts repairing and replacing components in the spotlight, and focuses on making things like the battery, charging port and display quick to swap out. The smartphone puts speed in the spotlight with a battery replacement taking just five-minutes to achieve and the display taking around 20-minutes. This comes as part of a larger shift toward technology repair initiatives that respond to changing consumer preferences to maintain their devices themselves.
The Nokia G22 is arriving in the UK for £149.99 starting March 8, 2023 with additional European markets getting the device soon after. The smartphone features a 6.52-inch display with a 90Hz refresh rate, a triple-camera array, is powered by a Unisoc T606 processor and boasts 4GB of RAM with 64GB of storage.
Image Credit: HMD