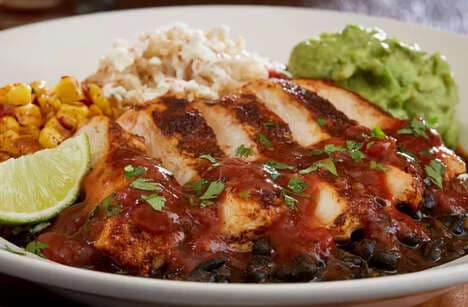 BJ's Brewhouse and Restaurant is bringing the heat this season with the launch of new Ultimate Barbacoa Chicken. In addition to the spicy new entree, the brand is also debuting new Fried Couscous Mac & Cheese Balls and Garlic Knot Bruschetta Bites.
For those unfamiliar, barbacoa is a style of slow-cooking meat that often involves dried chilies and other spices. BJ's new Ultimate Barbacoa Chicken consists of tender, barbacoa-spiced chicken topped with fire-roasted tomato salsa and cilantro. The chicken is also served with brown rice, corn and fire-roasted red pepper succotash, black beans, feta cheese, guacamole, and a Greek yogurt crema.
In addition to the new chicken dish, BJ's has also launched two tasty new sides. The Fried Couscous Mac & Cheese Balls are made with pearl couscous and various cheeses, while the Garlic Knot Bruschetta Bites feature garlic parmesan knots.
Image Credit: BJ's Brewhouse and Restaurant