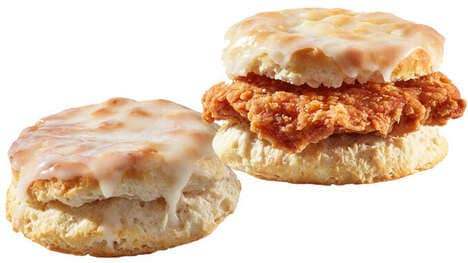 The Krystal Donut-Glazed Biscuits are being launched as a new option for patrons to order during breakfast hours to enhance their meal with a touch of buttery sweetness.
The biscuits consist of a fluffy, buttermilk recipe that's baked to perfection before being topped with a sweet glaze to give them a donut-like flavor. The biscuit can be enjoyed on its own or even as the Donut-Glazed Chick Biscuit, which features a piece of fried chicken in regular or spicy flavors.
The Krystal Donut-Glazed Biscuits are set to launch at participating locations on March 6, 2023 but will only be around for a short time. The menu items are sure to be a hit amongst consumers with a penchant for sweet yet savory foods.
Image Credit: Chew Boom