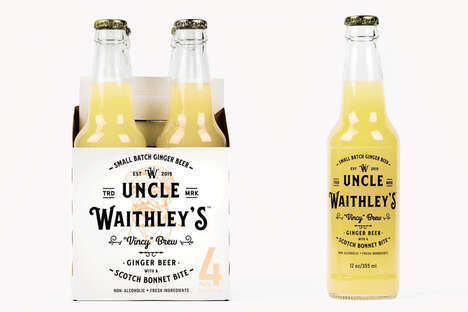 Ginger has a kick to it—not the same power as a hot pepper—but Uncle Waithley's Beverage Co. is amplifying the taste of regular ginger beer by blending it with scotch bonnet. Founder Karl Franz Williams was inspired to create Uncle Waithley's Vincy Brew based on a family recipe from his grandfather, Uncle Waithley, a ginger farmer who lived on the island of St. Vincent.
The simple, small-batch ginger beer is formulated with scotch bonnet pepper, ginger, turmeric, lime and mineral water. Since the product is made with 100% real ingredients, some separation in the bottle is natural, and a testament to its freshness and quality.
This extra spicy and sweet brew promises to shake up classic cocktails made with ginger beer, adding a hint of heat to everything from a Moscow Mule to a Dark and Stormy.