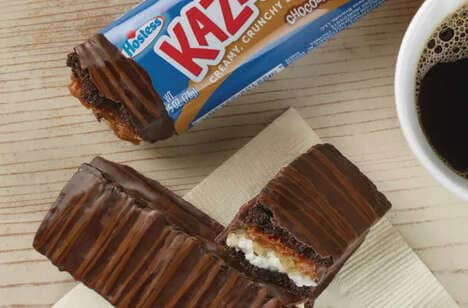 Hostess is giving consumers a way to take their snack game to the next level with its new Kazbars.
Hostess' new Kazbars are essentially a cross between the brand's signature snack cakes and a classic candy bar. Each one features two layers of chocolate cake alongside layers of creme, candy crunch, and either caramel or chocolate fudge. To top it all off, each of the hybrid snack cakes is then finished with chocolaty coating and topped with a sweet drizzle. The idea is that with so many different flavors and textures layered on top of one another, you'll get a bit of everything in each bite.
Hostess' new Kazbars come in two varieties, Chocolate Caramel and Triple Chocolate, and are set to arrive at retailers nationwide starting mid-March.
Image Credit: Hostess