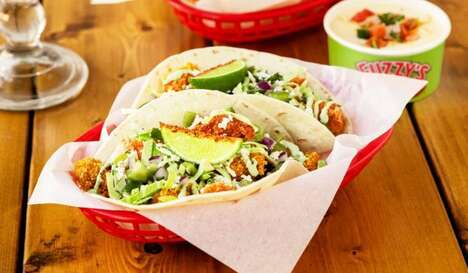 Fuzzy's Taco Shop is combining the taste of one of the most popular cocktails with delicious seafood flavors in the form of its new Margarita Shrimp Taco.
Just as the name suggests, the new Margarita Shrimp Taco features flavors inspired by Fuzzy's signature drink, the FuzzyRita. The new Margarita Shrimp Taco starts with fried or grilled shrimp paired with Tajin garlic sauce, green cabbage, lime crema, and a margarita-tomatillo pico made from freshly squeezed lime juice and agave. The taco is finished with feta, cilantro, and a Tajin-salted lime wedge, all served in a flour tortilla. As Laura Purser, Vice President of Marketing for Fuzzy's Taco Shop explains, "This taco is packed with bright, fresh flavors and features shrimp, one of our most popular items."
The new Margarita Shrimp Taco is a limited-time offering that's only available from Wednesday, March 1, through Sunday, April 9, 2023 at participating Fuzzy's Taco Shop locations.
Image Credit: Fuzzy's Taco Shop