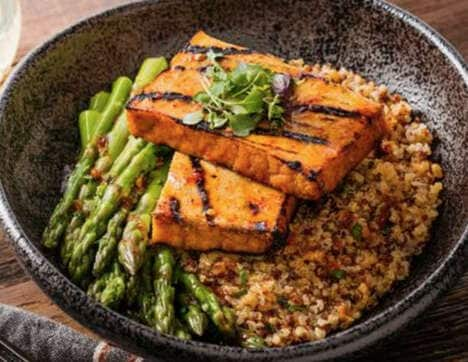 The chef-driven fast-casual restaurant concept Urban Plates just debuted six new dishes, including the new Asian Noodle Salad and Chili Grilled Tofu Bowl.
In an effort to make something vegan-friendly that doesn't skimp on flavor, the chefs at Urban Plates decided to put the spotlight on tofu. The new Chili Grilled Tofu Bowl starts with chili-marinated tofu that's been glazed and grilled until the outside is caramelized. This sweet and smoky char flavor pairs perfectly with the rest of the elements in the bowl, including organic red and white quinoa, asparagus, and gochujang sauce. Microgreens are also added on top for added protein and flavor.
The new Chili Grilled Tofu Bowl as well as other new dishes like the Osso Bucco main and Maple Butternut Squash with Toasted Coconut side are available now.
Image Credit: Urban Plates