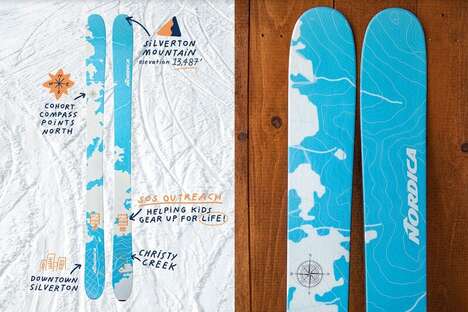 Christy Sports, in partnership with Nordica and SOS Outreach, has launched a limited-edition ski, The Nordica Unleashed Outreach, to encourage children to spend more time outdoors. Research shows that outdoor play positively impacts children's mental health and emotional well-being, yet the average American child spends only a few minutes a day outside. The Nordica Unleashed Outreach aims to provide more outdoor opportunities for children, regardless of social or economic barriers, by donating all sales to SOS Outreach.
The skis, designed by four women under the age of 22 who are alumni of SOS Outreach, are built for modern freeskiers who enjoy skiing deep powder, big terrain, trees, and bumps. Each pair of elite skis purchased equates to one full year of outdoor adventure and mentorship for one child. The design is based on a scale topographic map of Silverton, Colorado, and features real direction points and elevation lines up to Silverton's peak elevation of 13,487'.
Only 40 pairs of The Nordica Unleashed Outreach are available in sizes ranging from 162 to 194 cm and can only be purchased through Christy Sports. By buying a pair of these skis, skiers can contribute to a child's outdoor adventure and help promote the benefits of outdoor play.