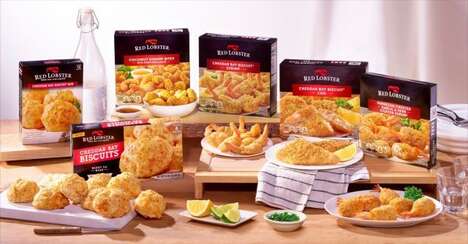 These Red Lobster frozen dishes are being launched by the brand it's first foray into the frozen section at the grocery store to provide shoppers with a way to enjoy some of their favorites from home.
The seafood-focused appetizers include the Cheddar Bay Biscuit Shrimp, Coconut Shrimp Bites, Cheddar Bay Biscuit Cod and the Parmesan Crusted Garlic & Herb Stuffed Shrimp. The products will join the brand's existing lineup of retail products, which includes Cheddar Bay Biscuits and more.
The Red Lobster frozen dishes are part of the continued push towards ready-to-prepare products for consumers to enjoy at home as an alternative to ordering in or going to dine in a restaurant. This comes as part of a lifestyle switch as consumers continue to spend more time at home and seek out cost-effective ways to enjoy familiar foods.
Image Credit: Red Lobster