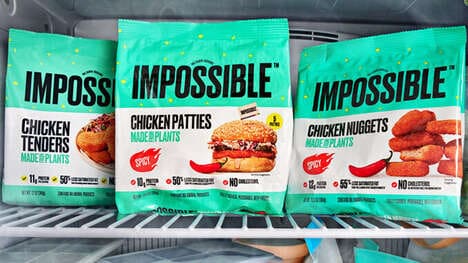 These new Impossible Foods products are being launched to help expand the brand's reach and provide consumers with new options to enjoy when foraying into the market of plant-based foods.
The new products include the Spicy Chicken Patties, Spicy Chicken Nuggets and Chicken Tenders, which are all crafted with plant-based recipes with no meat in the mix. The piquantly favored products are intended to satisfy demand for consumers with a penchant for spicy foods and are crafted with a custom blend of spices.
Each of the new Impossible Foods products have between 10 and 12-grams of protein per serving with no cholesterol, up to 35% less fat and up to 55% less saturated fat than chicken-based alternatives. The products are launching into retailers as well as select food service locations across the US.
Image Credit: Impossible Foods