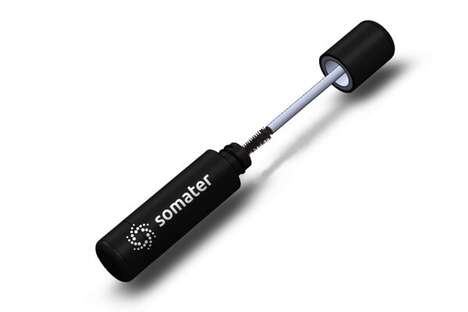 Somater presented a prototype for its innovative refillable and antimicrobial mascara product at the Paris Packaging Week 2023 with patented "Click Turn and Apply" (CTA) technology. The prototype was made possible with Pylote and SIMP and it shows off a new high-quality opening movement.
The first antimicrobial and refillable mascara features a bio-sourced plastic brush developed by SIMP and Pylote's unique metal-free, nanoparticle-free antimicrobial mineral technology in the stem and the brush. As proven in a lab, the stem and the brush of the product had reduced bacteria thanks to self-decontaminating surfaces.
Increasingly, consumers are looking for beauty solutions that are more hygienic, as well as more environmentally friendly, and this mascara offers the benefit of both features; this mascara helps to reduce plastic waste by about 30% from the second use compared to non-refillable solutions.