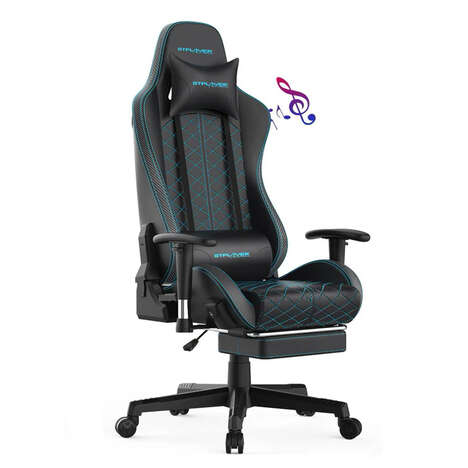 Chungqiu Furniture launched the 'GT Player,' an immersive gaming chair equipped with NFC compatibility, Bluetooth 5.1 connectivity, and surround-sound speakers. The most attractive feature on the GT Player is its phone rest that doubles as an NFC reader. When a phone is placed on this stand with NFC enabled, the phone's media playback will be controllable with the GT Player's companion application on the computer, meaning users do not need to reach for their phone to change the music being played.
This configuration enables separated audio setups, such as using a computer's speakers for game audio, and using the chair's speakers for music from a mobile phone. Alternatively, all audio can be played from the chair's speakers, offering an immersive and relaxing experience while gaming or working.
The Chungqiu Furniture GT Player is available now from Wayfair at an MSRP of $360 CAD, or roughly $265 USD.
Image Credit: Wayfair, Chungqiu Furniture