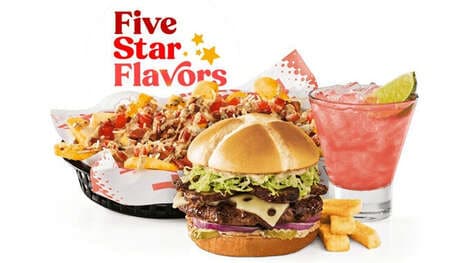 Red Robin is elevating the traditional burger and fries meal with its new Tycoon Burger and Cheesy Bacon Truffle Fries.
Available as part of the brand's limited-time Five Star Flavors menu, the new burger and fries make use of premium ingredients like black garlic and truffle. The Tycoon Burger starts with a fire-grilled beef patty topped with a creamy truffle aioli, a portobello mushroom, dill pickles, red onions, steak marinade, Swiss cheese, and shredded lettuce, all served on a toasted brioche bun. For even more five-star flavors, the Cheesy Bacon Truffle Fries take an order of crispy fries and top them with five-cheese sauce, shredded Parmesan, diced tomatoes, bacon crumbles, and a drizzle of a creamy mushroom and truffle aioli.
Red Robins's full Five Star Flavors menu is available now.
Image Credit: Red Robin