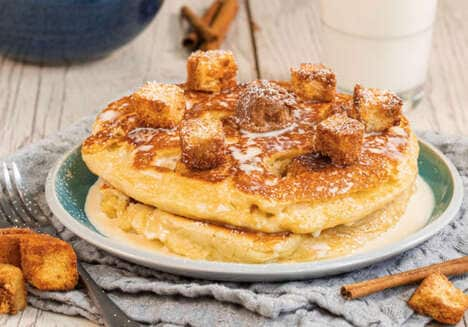 Snooze, an A.M. Eatery has managed to combine the delicious taste of cinnamon toast with the texture of fluffy buttermilk pancakes in the form of its new Cinnamon Toast Pancakes.
The new Cinnamon Toast Pancakes start with a pair of fluffy buttermilk pancakes stuffed with house-made cinnamon toast bits and cinnamon sugar. The pancakes are then topped with vanilla cream, whipped cinnamon butter, even more cinnamon toast bits, cinnamon sugar, and a dusting of powdered sugar. Best of all, 100% of the proceeds from the sales of the new Cinnamon Toast Pancakes will benefit José Andrés's relief organization World Central Kitchen.
With Pancake Tuesday just around the corner, the new Cinnamon Toast Pancakes from Snooze, an A.M. Eatery might be the perfect way to celebrate.
Image Credit: Snooze, an A.M. Eatery