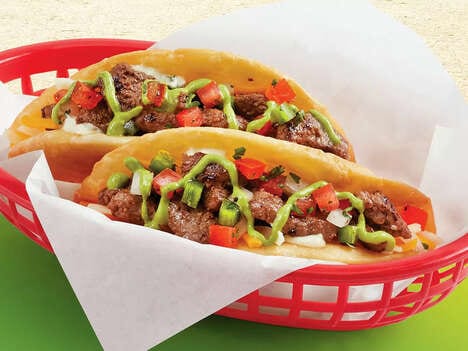 Fuzzy's Taco Shop is bringing back the hit this season with the return of its fan-favorite Spicy Chimi Fajita Taco and Saucy Brisket Poblano Taco. But this time around, these two menu items will be staying for good as part of the chain's permanent menu.
Fuzzy's Taco Shop originally debuted the Spicy Chimi Fajita Taco back in 2021 and it quickly became the chain's second-highest-selling taco LTO of the past five years. As Fuzzy's Taco Shop's Executive Chef, Josh Diekman, explains, "Both of these tacos were fan favorites during their time on our menu, so it felt like a natural decision to bring them back so our guests can enjoy them once again."
The hit Spicy Chimi Fajita Taco consists of a lightly-fried flour tortilla filled with grilled fajita beef or fajita chicken, Fuzzy's signature garlic sauce, shredded cheese, and pico de Gallo. The taco is then topped with a spicy house-made spicy chimichurri sauce made from a blend of jalapeños, parsley, cilantro, olive oil, lemon juice, garlic, and salt.
Image Credit: Fuzzy's Taco Shop