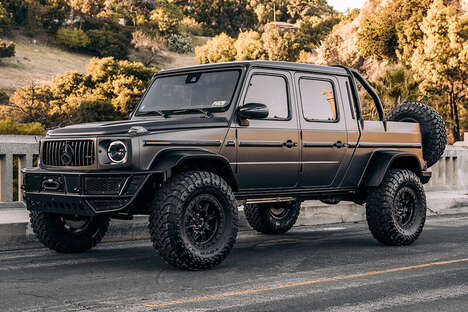 The G-Wagen Crew Cab By Pit26 Motorsports has been unveiled as the Southern California-based company's latest creation that will provide drivers with a stylish way to easily explore their choice of off-grid location.
The G63 AMG Crew Cab is based on a 2019 to 2023 Mercedes-Benz G550 or AMG G63 G-Class and features an all-new cab engineered from the ground up to ensure it's ready to withstand any environment. The chassis has been stretched by 20-inches and lifted, and boasts a pickup bed with a dual-cab design to boot.
The G-Wagen Crew Cab By Pit26 Motorsports is priced starting at $385,000, and also has either 20-inch forged simulated bead lock wheels or 18-inch Innov8 racing wheels to suit preferences.
Image Credit: Pit26 Motorsports