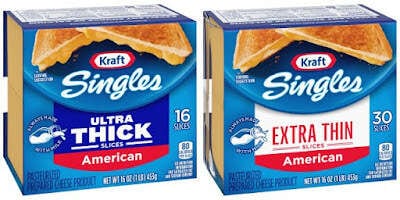 Kraft is making it easier for fans to add more (or less) cheese to their favorite dishes with its new Kraft Singles Ultra Thick and Kraft Singles Ultra Thin.
Instead of offering just one standard size for its individual slices of American cheese, the slices will now also come in extra thick and ultra-thin versions. This is a major innovation because, as the company explains, Kraft Singles is "the first American cheese slice to come out with slice thickness varieties." The new Kraft Singles Ultra Thick product will feature 50% thicker slices and come with just 16 slices per pack (versus the 24 slices per pack that come with Original Kraft Singles). On the other hand, the new Kraft Singles Ultra Thin will boast 30% fewer calories per slice, and come with 30 slices per pack.
Both of the new slices will be available nationwide as of this week.
Image Credit: Kraft