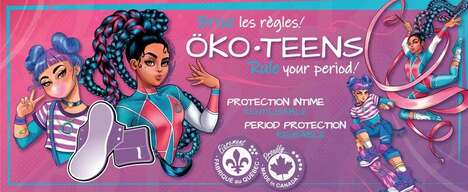 'Öko-Teens' offers four different menstrual kits complete with reusable pads, liners, and stain-whitening solutions. These kits range from $16.99 for a trial-size package, up to $143.92 for a complete all-in-one solution to managing periods. The packages include both the Öko-Teens 'Yuri,' a non-toxic, comfortable, and washable panty liner, as well as the 'Vaness,' a full-size, complete-protection pad designed specifically for teens.
The Öko-Teens menstrual kits make the cleaning process easy, as each kit comes with a dedicated washer/dryer pouch to store the liners when washing them safely. Additionally, the kits come with several packages of Öko-Capsules, small stain treatment pills designed in collaboration with Filo. These are available in scented and unscented varieties, and are engineered specifically to refresh and whiten the Vaness and Yuri pads after use.
Each product is also available individually on Öko-Teens' website, though the all-in-one packages are engineered specifically to help teens begin managing period challenges.
Image Credit: Öko-Teens