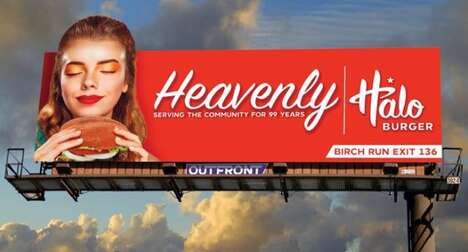 Halo Burger and Mott Community College are collaborating to offer students the chance to win a $1,000 scholarship by creating a new billboard design for Halo Burger's longest-standing billboard. The contest is part of the celebration of the 100th anniversary of both organizations serving Flint, Michigan. Students are provided with branding guidelines but are encouraged to add their own creative twist to the design. They can also visit Halo Burger's iconic downtown location for a branding photoshoot or use vintage photos provided.
The goal of the scholarship is to give back to the local community and gain a fresh perspective from the younger generation. Halo Burger, known for its community involvement, wanted to work with a local college to celebrate their 100 years of service in the area. MCC's Visual Arts & Design Center impressed Halo Burger during a personal tour, and they are excited to showcase the work of emerging artists.
The top contestants' designs will be shared on social media, and followers will have the opportunity to participate in the voting process. The scholarship contest is an excellent opportunity for students to showcase their creative talents and gain recognition for their work.
Image Credit: Halo Burger