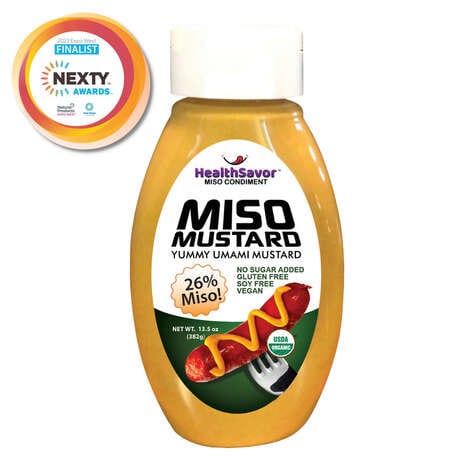 Great Eastern Sun's HealthSavior Organic Miso Mustard is a finalist in the Best New Condiment, Sauce and/or Dip category in the NEXTY Awards at Natural Products Expo West 2023.
This fresh reimagining of a classic American condiment combines mustard seeds with apple cider vinegar, soy-free chickpea miso, turmeric and spices to add savory sophistication to meals and snacks. As the brand notes, "With both apple cider vinegar and miso consistently ranking in top ten lists for cultured foods, which are widely considered to promote gut health, Miso Mustard delivers more than just flavor."
Umami-rich ingredients are not only full of deep and rich flavor, they are also beneficial for helping to enhance the taste of dishes without the need for excess salt. This Organic Miso Mustard is gluten-free, vegan, soy-free and made without added sugar.