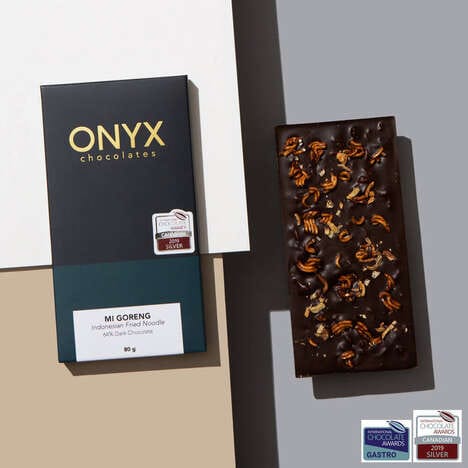 The Onyx Mi Goreng chocolate bar is inspired by the Indonesian friend noodle dish of the same name. Based in Toronto, Canada, Onyx Chocolates specializes in handcrafted confections — from bonbons to chocolate bars — with each spotlighting traditional Asian flavors.
The Onyx Mi Goreng chocolate bar is just one of the brand's notable snack offerings, with other bestsellers like its Thai Coconut and Thai Peanut Curry chocolates also available. This fried noodle chocolate bar is made with real "crunchy noodle glazed with sweet soy sauce, friend onion, garlic, and a hint of chilli." It features a unique mix of savory ingredients that complement its bittersweet dark chocolate base — appealing to a growing number of consumers seeking premium confections with a bolder flavor profile.
Each Onyx Chocolate dark chocolate creation is unsweetened and handmade in Toronto, Canada.