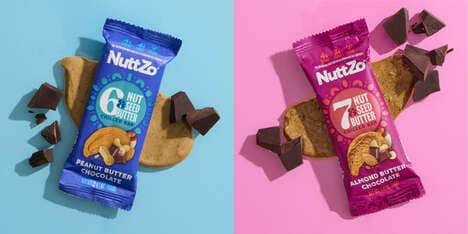 Mixed nut and seed butter brand NuttZo will be launching Chilled Nut & Seed Butter Bars at Natural Products Expo West 2023, sharing a portable way for consumers to take its better-for-you nut and seed butters on the go. The grab-and-go bars are packed with seven to eight grams of protein, plus just four grams of sugar and no artificial preservatives.
The refrigerated bars are ready to be enjoyed in flavors like Almond Butter Chocolate with NuttZo's Power Fuel blend of seven nuts and seeds (cashews, almonds, Brazil nuts, flax seeds, chia seeds, hazelnuts, and pumpkin seeds) and Peanut Butter Chocolate featuring the brand's Peanut Pro blend (peanuts, cashews, almonds, flax seeds, Brazil nuts, hazelnuts, and sunflower seeds.)
These bars are not only full of flavor but also health fats, omegas and amino acids.