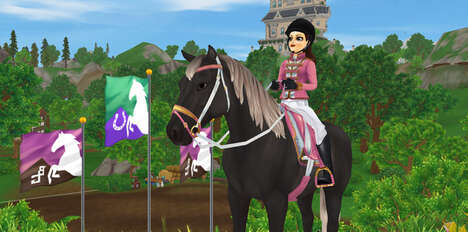 Star Stable Online, the popular online horse game, has announced the launch of its new Championships Galore event, which will see players compete in daily races around Jorvik for three weeks. The event is open to players who have reached level 5 in the game, and they will be able to meet Agnes, the official representative of the Jorvik Elite Racing Committee (JERC), which is responsible for hosting, governing, and sponsoring all of Star Stable's equestrian championship competitions.
The JERC adds a new layer of authenticity to the game, similar to how FIFA governs football competitions. While players will initially meet Agnes, the game promises to introduce more JERC affiliates in the future. The races will be divided into groups of up to 20 players, sorted by progress in the game, with the three players with the best times in each group winning a ribbon. All participants will also receive Jorvik Shillings, Horse XP, and build their reputation with the revamped championship tracks.
Star Stable Online has also made several updates to its Horse Progression feature, making it easier and faster for players to level up their horses. The game has removed the speed gained from riding on roads, reduced the cost of leveling up horses, and added a player stat cap to level 25.
Championships Galore offers an exciting new experience for Star Stable Online players, with daily races and the opportunity to win prizes and build their reputation within the game. The addition of the JERC adds an extra layer of authenticity to the game, and the updates to the Horse Progression feature should make it easier for players to progress their horses.
Image Credit: Star Stable Entertainment