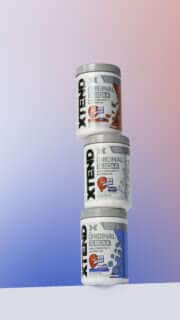 XTEND has united with AIRHEADS for a sweet collaboration that brings three new flavors: 'Cherry,' 'Blue Razz,' and 'White Mystery.' XTEND's new collaboration contains seven grams of BCAAs, hydrating electrolytes, and performance ingredients for muscle recovery and nutrition. Each flavor contains branched-chain amino acids, L-Leucine, L-Glutamine, L-Isoleucine, L-Valine, and more. When it comes to electrolytes, XTEND offers sodium citrate, sodium chloride, and potassium chloride for optimal hydration.
AIRHEADS x XTEND also contains zero sugar and zero carbohydrates to help consumers maximize their performance without compromising on healthy ingredients. Each pack includes thirty servings of muscle recovery powder, and consumers can subscribe for multiple months to receive a discount.
The three-flavor AIRHEADS x XTEND collaboration is now available on the Cellucor website.
Image Credit: XTEND