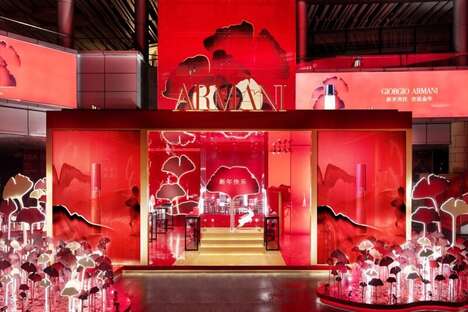 The Year of the Rabbit will be ushered in with a beautiful, crimson pop-up at Haikou Mova Mall thanks to a collaboration between China Duty-Free Group (CDFG) and Armani Beauty, a division of L'Oréal Groupe.
A stunning Gingko Garden is the focal point of the event, boasting traditional Chinese paintings and calligraphy inspired by the holiday. Bright visual media and digital banner displays draw visitors to the pop-up and emphasize the Armani Beauty Lunar New Year products currently up for sale.
Armani Beauty's skincare, cosmetics, and fragrance lines are highlighted in the pop-up. Customers may select from a choice of personalized, limited-edition cases at the pop-up shop. These cases are decorated with golden ginkgo leaves and traditional Chinese painting brushstrokes.
Image Credit: Armani Beauty