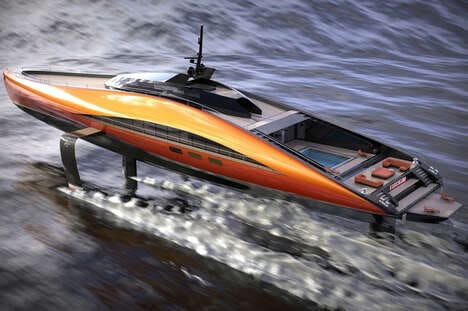 The 'Plectrum' superyacht has been conceptualized by the Lazzarini Design Studio as a futuristic vessel that prioritizes advanced materials and technologies to achieve a new kind of experience on the water.
The superyacht comes in at 74-meters in length and is imagined with a carbon fiber composite material for the hull to keep the dry weight of the vessel as low as possible. The hydrogen-powered motors are capable of producing 15,000-horsepower to achieve a top speed of 75-knots. This is thanks to the adjustable hydrofoil beams that measure in at 15-meters when anchored and will extend to 20-meters to help the vessel glide above the surface of the water.
The 'Plectrum' superyacht is also imagined with a helicopter hangar as well as central and rear garages.