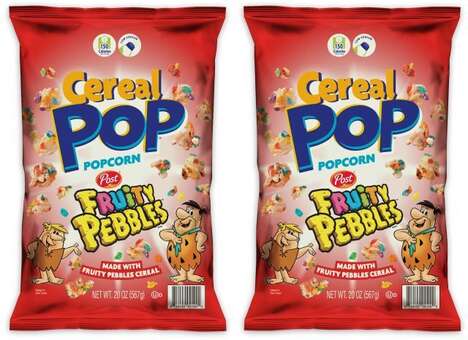 The new Fruity Pebbles Cereal Pop Popcorn is the latest addition to the Cereal Pop line of snacks, which combines the beloved cereal with popcorn. The Fruity Pebbles Cereal Pop is made by lightly coating popcorn with cream and then covering it with Fruity Pebbles cereal, creating a sweet and savory treat.
The new product will be available exclusively at Sam's Club stores nationwide starting this week. The 20-oz bags will be sold for $6.98 for a limited time. For those who prefer smaller quantities, the Cereal Pop will also be available in 5.25-oz bags starting February 1, 2023 on the online store of Cereal Pop.
The Fruity Pebbles Cereal Pop Popcorn is a perfect snack for cereal lovers who want to enjoy the taste of their favorite cereal in a different form. It's also great for those who are looking for a sweet and satisfying snack that's easy to take on the go.
Image Credit: Cookie & Candy Pop Popcorn