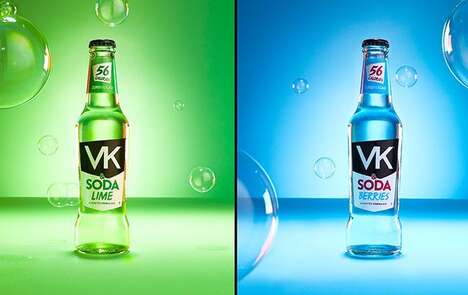 To appeal to consumers concerned about their health, Global Brands has introduced a vodka-based, sugar-free line for its VK brand. The range features sugar-free and low-calorie options for consumers looking to cut down on potentially unhealthy ingredients while still enjoying the delicious taste of VK & Soda.
'VK & Soda Lime' and 'VK & Soda Berries,' the two new additions, contain 56 calories each. The former blends berry flavors with a vodka-based on the brand's Blue RTD. The traditional mix of vodka, lime, and soda is the source of inspiration for the "light and sparkling" Soda Lime catchphrase the brand is known for.
"Consumers can have the party vibes and fruitiness that come with a VK, with fewer calories than our iconic, number one drink for students. We're absolutely thrilled to release this true innovation for the category – a product enticing the rapidly growing segment of health-conscious consumers with the full flavor and taste that VK delivers," said Charlie Leaver, head of brands at Global Brands.
Image Credit: Global Brands