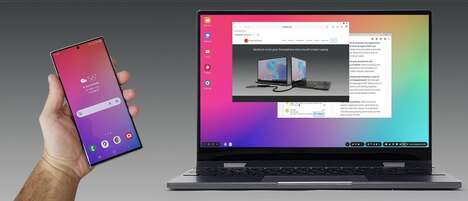 NexDock unveiled the 'NexDock Wireless' at CES 2023. This is an improved version of its previous NexDock 360, which only worked through wired connectivity. The NexDock Wireless can connect to mobile phones, handheld gaming devices, tablets, and any other device that supports video output over USB-C.
In wired mode, the NexDock Wireless acts as a USB-C dock connected to a monitor, mouse, keyboard, and additional expansion ports. In wireless mode, the screen receives a casted image from the mobile device, while the keyboard and trackpad are connected to the device over Bluetooth. The wireless mode introduces some latency to the image due to the delays associated with Android casting, but is an excellent option for users with phones that do not support USB-C video out, or users that do not want unnecessary cables.
The NexDock Wireless is available now from NexDock at an MSRP of $349.99 USD, only $50 more than the previous wired iteration.
Image Credit: NexDock