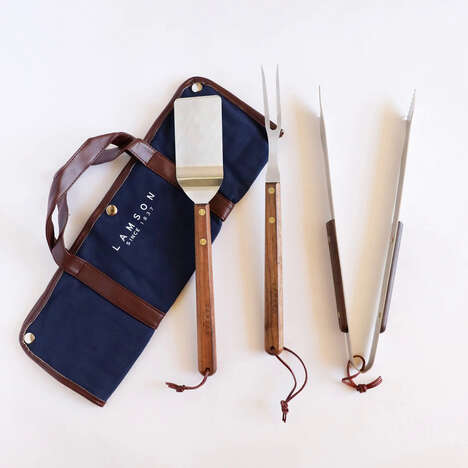 This 15″ Tail-Gater 3-Piece Barbecue Set from grill accessory brand LAMSON is a great gift for at-home chefs and is ideal for on-the-go use.
The set consists of a 15″ Two-Tine Fork that's perfect for lifting steaks, a 15″ Angled Turner that's ideal for fish thanks to a beveled front edge, and 15″ Tongs with serrated teeth for all meat and fish varieties. The set also comes with a convenient and compact bag for travel, ensuring easy tool transport when picnicking, tailgating, taking a beach trip or participating in other outdoor gatherings.
The Tailgater set from LAMSON fuses function and quality, with each tool featuring a "rugged walnut handle that holds the hardened stainless steel tool firmly with two brass rivets." Each tool is designed for on-the-go grilling and is priced at $79.99 for the bundle.