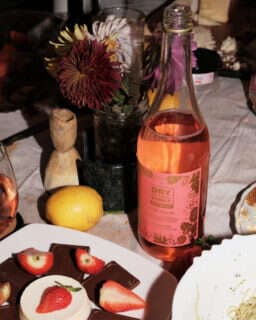 DRY Soda Co. is debuting another flavor under the Botanical Bubbly Reserve Collection, and this time it's the 'Rosé Soleil.' This innovative botanical-infused sparkling Rosé was bottled at zero proof and is perfect for individuals looking for a Dry January go-to. Relying on heavy notes of strawberry, rose, and oak, Rosé Soleil offers an elevated take on Provence-style Rosé that is both delicate and floral without sacrificing flavor. This sparkling beverage is best paired with light kinds of pasta, seafood, lamb, and goat cheese. 'Rosé Soleil' is all-natural, non-GMO, low sugar, Kosher, gluten-free, caffeine-free, and sodium-free.
"In creating the Botanical Bubbly Reserve Rosé Soleil, we have found the sweet spot with a combination of botanical and fruit-forward ingredients to craft the most decadent non-alcoholic Rosé-inspired beverage," said Sharelle Klaus, founder and CEO of DRY Soda Co.
Image Credit: DRY Soda Co.