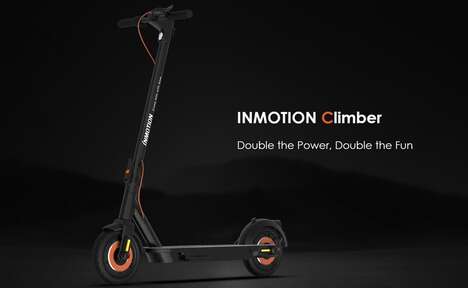 INMOTION, an electric micro-mobility company focusing on scooters and unicycles, launched the 'INMOTION Climber,' the brand's first-ever dual-motor e-scooter. This scooter boasts a maximum power output of 1,500w, split between two motors that each deliver a continuous output of 450w or a peak output of 750w. These motors are powered by an integrated battery cell with impressive technology. This dual-motor configuration allows the Climber to reach speeds of 38 km/hr with ease.
The Climber's battery cell is part of the scooter's 'Battery Management System,' which constantly monitors each cell in the battery pack, ensuring that load is spread evenly among the cells and that each cell is in a healthy state. This not only prolongs the length of time that a single charge can power the scooter, but also extends the long-term battery health of the power pack. According to INMOTION, this battery pack can be fully recharged in just 9 hours, meaning this scooter is perfectly suited for overnight charging.
The smart features don't end with the battery pack, though, as the scooter is equipped with a dual-wheel electric breaking system that allows the bike to stop moving incredibly quickly, if desired. INMOTION states that the scooter can come to a halt in just 0.01 seconds, though this is dependent on the current speed of the vehicle.
INMOTION ensures riders that the Climber is fit for a number of customers and a wide array of environmental conditions. The Climber boasts a maximum supported weight of 120kg, or roughly 285 lbs, and features IPX7 weather resistance on its battery and IP56 weather resistance on its frame.
Image Credit: INMOTION